The Laurels of Summit Ridge - A Skilled Nursing & Rehabilitation Center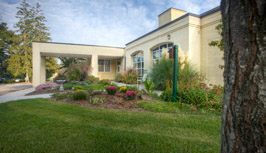 Located adjacent to the beautiful Blue Ridge Parkway, The Laurels of Summit Ridge is a 87-bed skilled nursing and rehabilitation center just a half mile from the VA Medical Center and five miles from Mission St. Joseph Hospital.
The Laurels of Summit Ridge offers short term rehabilitation, hospice care, respite care, long term care and assisted living. We provide high quality, comprehensive health care for each guest.
Our orthopedic unit, THE ORTHO CENTER, offers private and semiprivate rooms (each equipped with cable TV and telephone), a private lounge featuring internet access and reading materials and an open, airy therapy gym. Short term rehabilitation guests will benefit from an individualized therapy plan of care to promote a safe and quick return home.
Our long term care guests and assisted living residents can enjoy the same quality care while taking part in activities, community outings, birthday and holiday celebrations all while fostering lasting relationships with family and friends.
In addition, next door is Ashewood Manor, our senior independent living facility. Here, independent seniors can enjoy friendships and vibrant living while having the benefits of being part of a campus with assisted living and skilled nursing services. Additional services available include midday meal, housekeeping, maintenance, transportation, and an emergency call bell system.
Underlying it all is a professional staff dedicated to The Laurel Way of Caring – our creed and the measure by which we extend to our guests the respect, dignity and compassion they so richly deserve.